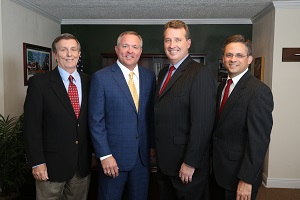 Benefit Planning Group is a New Orleans area based insurance and financial services firm that focuses on Investment Advisory Services, Insurance Products, Estate Planning, Retirement Strategies, and a full range of Employee Benefit Plans. Since 1984 our philosophy is to provide our clients with both personal and professional service.
Our mission is to create and maintain wealth for our clients through long term effective asset management. We build client relationships based on trust, competent professional advice, continual communication and prompt personal service. We assist our clients in setting financial goals, monitoring these goals and keeping them informed of the process and working towards these goals.
Pictured is Lenny Nelson CLU; Patrick Taylor, President; Tom Meyer CRPC®, Vice President & Ed d'Hemecourt

Check your Portfolio Risk Level    

---
CLIENT  ACCOUNT  ACCESS
LPL Account View                              E Money Client Portal
---
The new tax law includes several provisions that could benefit business owners, such as the pass-through deduction and write-offs for capital investments.

Some indicators that it might be time to hire additional employees, and how to weigh the potential benefits in light of the costs.

The relationship between oil prices and GDP growth has become more complicated in recent years due to the expanded U.S. presence in the global oil market.

A glimpse into how blockchain might impact businesses, and a warning for investors to heed the risks associated with blockchain investments.