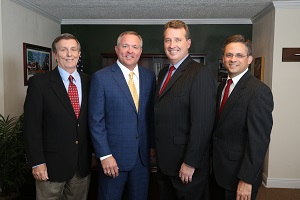 Benefit Planning Group is a New Orleans area based insurance and financial services firm that focuses on Investment Advisory Services, Insurance Products, Estate Planning, Retirement Strategies, and a full range of Employee Benefit Plans. Since 1984 our philosophy is to provide our clients with both personal and professional service.
Our mission is to create and maintain wealth for our clients through long term effective asset management. We build client relationships based on trust, competent professional advice, continual communication and prompt personal service. We assist our clients in setting financial goals, monitoring these goals and keeping them informed of the process and working towards these goals.
Pictured is Lenny Nelson CLU; Patrick Taylor, President; Tom Meyer CRPC®, Vice President & Ed d'Hemecourt

Check your Portfolio Risk Level    

---
CLIENT  ACCOUNT  ACCESS
LPL Account View                              E Money Client Portal
---
In the final quarter of 2018, interest-rate fears and unresolved geopolitical issues upset the financial markets and reversed many of the gains notched earlier in the year.

Even if you and your spouse have separate retirement accounts, you may still be able to craft a unified savings and investment strategy.

Discover why it might be worth waiting for a record of financial results before investing in an initial public offering.

Small-business owners should watch for trade policy changes that could impact their products, supply chains, or competitors.